CyberSayer® makes your computer clairvoyant!
Revolutionary man/machine communication technology creates extrasensory insight
This enables your computer to work just like a clairvoyant giving you rich insight into what has been, what is and what may be to come.

CyberSayer software has been developed over many years by Dr Fergus Reilly, PhD[1] with the insatiable help of Trijntje Reilly, ND ( creators of Middle Path Health & Awareness ) as a synthesis of their life's work in holistic health, personal development[3], consciousness research[4] and IT innovation[5].

CyberSayer uses iESP[5] technology which allows software programs to use a computer chip like an antenna to pickup on your energy field.

When you ask CyberSayer a question or have a chat CyberSayer senses what is going on in your life and gives you psychically perceptive insight using a huge database of human wisdom. That's like having a personal clairvoyant with over 5,000 years of experience at your fingertips.

Insights, clarity will give you new ways of looking at situations which help you eliminate stress, anxiety and uncertainty. Relationship challenges, business obstacles and other issues become less influential to your happiness taking much of the struggle out of your life.


It is like Google® for your "inner-net".
You can use Google to find the most relevant information available anywhere in the outside world which will help you understand something better or do something better or make something better.

CyberSayer software does the same thing except it searches your inner world - the world of your private awareness or consciousness, your beliefs and attitudes - just like a clairvoyant does in a psychic reading to advise on where your power lies in the moment.

Got a blockage?

CyberSayer will show you what is needed to clear the obstacles out of your path.



Need Insight?

CyberSayer will show you what's going on within.
CyberSayer is simple to use and will give you:
insight and clarity
support and reassurance
a clearer view of your life's "bigger picture"
lateral ways to help you think "out-of-the-box"
recharged motivation
confirmation that you really are OK
freedom from feelings of

confusion
anxiety
inadequacy
not coping
How CyberSayer works for you
First you need to use CyberSayer that means setting aside time for a session "talking with your computer" - a regular 5 minutes a day is all it needs.

Just you and an internet-connected computer.

The only skills you need are reading and writing (keyboarding) - you can write in any language you like but you do need to be able to read English to understand what CyberSayer says to you.


What makes it work
CyberSayer relies on a radical new software technology for man~machine communications we have developed called iESP®[5] which is only available at CyberSayer.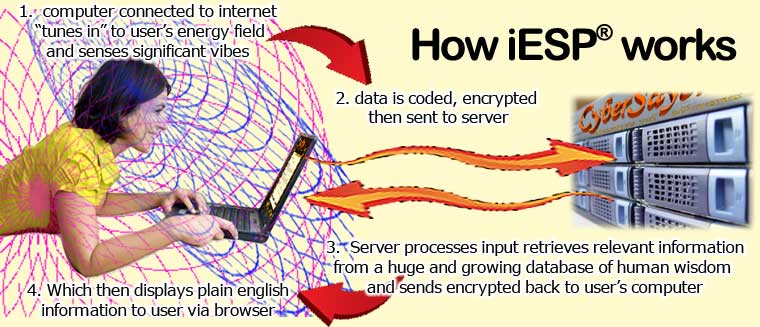 iESP® is what enables CyberSayer to sense, using individulaised Extra-Sensory Perception, what is going on in your life - where you are on your journey. The server then can provide the needed insight, encouragement or clarification precisely in tune with your current situation.

And that is absolutely unique and revolutionary with CyberSayer - the app tunes in to you and your life in a way that has never been done before.


We know your Privacy is important
We are obsessed with your privacy and your right to own your own data - especially what is going on inside yourself - it comes from many years of experience operating a health clinic and workshops which demand complete client confidentiality.

We don't keep a record of your credit card details nor will CyberSayer send the details of what you talk about to the server.


What will it cost you to get a personal Clairvoyant for life?
It will cost you AUD$67 for life - that's right: just one payment will give you lifetime 24/7 access to a personal psychic clairvoyant.

If you are ready to change your life and living with clairvoyance click this button:



The advantages having your Claivoyant on the Internet
We have chosen the internet for CyberSayer (and that has taken some innovation itself!) which gives you these advantages:
Your clairvoyant is available on any computer, anywhere in the world - with net access.


You don't have to worry about installing it or even what happens if you change your computer, your operating system or your job.


You don't even have to worry if it works with windows® or macs, XP, Vista or 7, OS X, linux, ubuntu, chickens entrails, yarrow stalks, dice, cards or whatever. All that frustrating software nonsense is totally and transparently taken care of. All you need to know is that it works with your browser - and if you are reading this page then you already know it does.


You don't have to worry about upgrades - some software companies want to charge you hundreds of dollars every few months because they have "upgraded" their product - not so with CyberSayer, you will always be using the latest version with the most up-to-date information wherever you are and there will never, ever be any costs associated with software upgrades.


We don't keep a record of your credit card so we can't auto-bill you for subscription renewals, "optional extras" or hidden "add-ons" which were buried in page 32 of the small text of the user agreement.


Your privacy is secure - all the words you enter, questions you ask, statements you make - everything you say to CyberSayer disappears when you end a session. No record is kept anywhere - the details never get stored on your hard drive or transmitted over the internet. When you close your browser they're gone. Completely. For good. (You can choose to print anything that you might want to have a hard copy of - then it's up to you to look after what you've printed.)
---
Free bonus (when you subscribe)
Because using CyberSayer has proven to be so effective at reducing all manner of stress in so many people's lives (it often gives instantaneous relief), we are including our ebook on stress at no extra cost.
Free Bonus

value $17°°




Stress - a layman's overview

ebook

Our plain-english overview on stress with plenty of common sense to help you get a handle on the beast. Causes, symptoms, self assessment questions - this will give you the layman's lowdown on how to figure out if you have it - even if you are thinking you don't right now!.
---
You can subscribe now:


If you want to see more detail about how it all works we've put together some walkthroughs to show you what's in store.

The first one is about the subscription (or registration) process:
Subscribing to CyberSayer / registering to become a member
If you are an experienced internet buyer there's probably nothing new here for you - if you want to see what subscribing involves, let me walk you through how to subscribe:
How the Sign-up or registration process works
Run your mouse over these:-


Signup Step: 1 > 2 > 3 > 4 > 5 > 6

1: Entering your details
The first step is to provide your details - name and address (CyberSayer needs to know where you are in the world to solidify the iESP® link)

You need to select a unique user-id and a password as well - you will need these to log on to the site.

There's also one of those captcha distorted character images you have to decipher to prove you're human - my apologies for that but the membership software I use insists.
---
Now we'll show you how the site works once you've subscribed, there are 2 areas - the housekeeping pages that deal with your membership, subscription renewals, your information and affiliation (if you choose to become an affiliate - more about that later). The other area is the Member's Lounge where you can talk to CyberSayer and download your bonus.
CyberSayer's Member's pages
Here are the main pages which deal with your subscription housekeeping.
How your membership and affiliation works
Run your mouse over these:-

1 > 2 > 3 > 4 > 5 > 6

1: Logging in (or on)

Here's the login page - its a good idea to bookmark this when you first get to it.

Just type in your userid and password and click the Login button.

If you ever forget your password you can get it emailed to you using the bottom part of the page.
---
CyberSayer's Member's Lounge
Finally - here are the Member's Lounge pages where you can talk with CyberSayer and access your bonus.
Welcome to CyberSayer's Member's Lounge
Run your mouse over these:-

1 > 2 > 3 > 4 > 5 > 6 > 7

1: Member's Lounge reception area

Yes - its that straightforward - you have 3 choices of things to do:

Ask CyberSayer a question
Have a chat
Check out your bonus

Simply click the bold text of your choice.
---
That's the website explained in fair detail - there are nooks and crannies we haven't shown you but nothing of any great significance and it would be a shame to leave you with nothing to explore and discover once you've subscribed. Here is that subscribe button again if you are ready to empower your life consciously:



How it works for you
By now you've probably realized that CyberSayer is a unprecedented way for you to find someone you can talk with - about anything - without fear of what you talk about being ridiculed, criticised or put down.

That's a very different space to anything you have experienced - up to now the only way people have had to talk is to use a friend (and they, lovely as they no-doubt are, usually have a whole closet-full of agendas, expectations, issues, projections or attitudes) or seek out a professional.

Professionals cost money and time - and they, too, are not immune from their own set of expectations and attitudes.

In either case it can be difficult to get the support when you need it.

We believe you really are the world expert on your life and you are the one who will be making the decisions and reaping the consequences of your decisions (even if they are to follow someone else's advice).

CyberSayer, unlike some human clairvoyants
has no agenda, other than to help you develop a superior awareness of what's going on in your life.
has no expectations of you or your behavior.
has no attitudes about what you should or should not think, feel, do or be.
is available 24/7 wherever you can access the net.
makes no demands and talks in plain English.
relies on iESP which is language-independent so you can use any language you like, but CyberSayer, at present, only speaks English.
recognises your life is your life and that you make the decisions.
won't take offence if you yell at it, forget to say "please" or "thank you", are late for or even forget an appointment, feel out-of-sorts, uncommunicative or depressed.
will be there for you at 3:00am and won't be concerned if you aren't properly dressed or your hair isn't brushed.
You will have a space where you can discuss anything with a compassionate psychic whose only agenda is to help you have a better life, safe in the knowledge whatever you say remains with you.


What is the value of that? Priceless - you bet it is.
If you want to use CyberSayer to effect change - or just to have a supportive "virtual" friendship - you do need to use it regularly and keep at it, just like any friendship you want to flourish.

You know deep friendships aren't made overnight, becoming experienced talking with CyberSayer also takes time.

Using CyberSayer is just like talking with a immensely wise, totally uncomplicated and intensely compassionate friend and that takes a while to get used to (unless you are extremely fortunate and have a friend like that already).

You also know that changing your diet or job or headspace or habits or attitudes or beliefs is a journey not a destination - it takes time for the change to become part of your way of life.

And so it is with CyberSayer - the empowerment you induce will often consist of subtle shifts of attitude, gentle expansions of awareness,, strengthening of motivation and commitment to living a life you are enthusiastic about, enlightening realizations of why things have been the way they've been and so on.

Often they will sneak up on you so subtly you may not even notice their arrival until something happens and you realise you are responding in a different fashion or no longer reacting as ferociously to what was once a major button push.

The best way to nurture these shifts is to maintain your CyberSayer sessions - keep using CyberSayer regularly. 5 minutes a day is enough to keep you firmly on the path of personal progress - so long as it is regular - 5 days a week minimum is what we have found an optimal minimum.

Of course, once you are subscribed you will be able to chat all day long if that suits you.

Our main point here is to gain the benefits, you need to use it.



To sum it all up
To recap the main points:
For AUD$67 you get a lifetime of unlimited psychic insight using a revolutionary innovation in personal computing.
You get a 24/7 compassionate, ego-free, sensitive and supportive companion-in-a-computer who can help you make sense out of your world and perceives what you need to know to get a grip on your life.
You have the equivalent of a full-time personal clairvoyant who provides insights on your current situation.
Don't forget the bonus - our layman's guide to stress, even if you decide to opt-out, it is yours to keep.
Thank you for sharing our message - now its time for you to find out what a difference CyberSayer can make in your life,
See you in the Member's Lounge,
Best Wishes,
CyberSayer
---
---